Location photo bridal
※Right now in preparation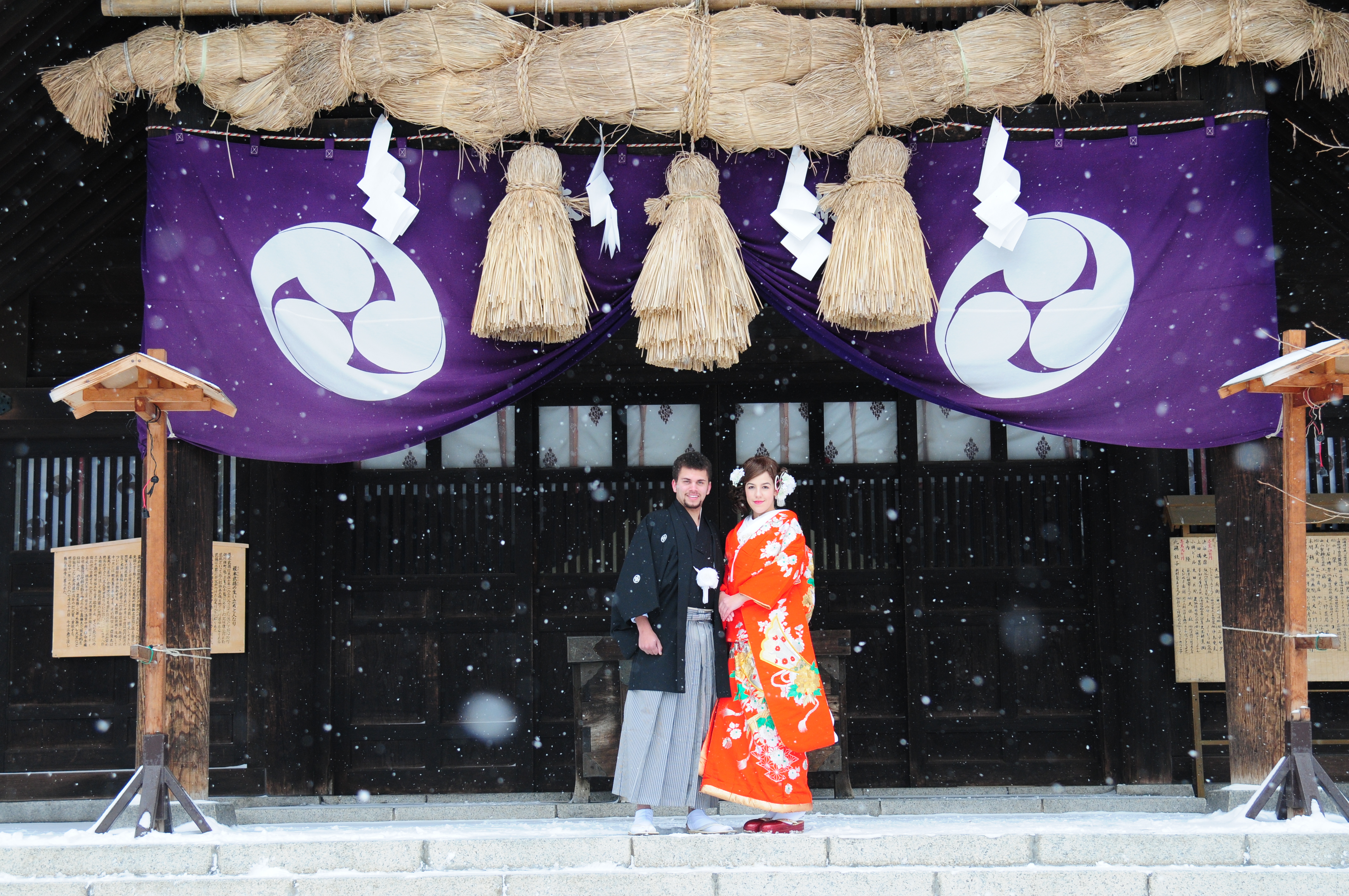 This service provides the opportunity to dress as a Japanese bride and travel by rickshaw to a shrine, where Japan's gods are worshiped, and be photographed at the Otaru Canal and other famous sightseeing spots. Deepen your bonds by dressing in a traditional Japanese bridal gown, pledging your love at a shrine and taking photos at famous spots as a memento of your day.
1. Arrive at our store
The shop is a 5 min walk from Otaru Station
2. Apply the makeup, change into bridal gown and groom's traditional Monpuku clothing
A woman gets make-up applied and changes into a bridal gown after arriving.
It takes about 1 hour.
A man changes into a groom's traditional monpuku clothing, which takes about 20 min.
There is nothing for you to prepare. We keep your clothing until you come back to our shop from the tour,but please keep the valuable to yourself.
3. Travel to the shrine by the rickshaw, photos at the shrine
You can take Japanese traditional wedding photos at the shrine built in Japanese traditional architectural style.
4. Visit sightseeing spots while riding a rickshaw
When you board the Rickshaw again, there are even more sightseeing opportunities.
Many Rickshaw pullers can tell you fascinating stories about the rich past of Otaru.
You can truly feel the history of the city.
5. Take photos at sightseeing spots
Take lots of photos at Otaru's famous locations so you can cherish the memories in your heart forever.
6. Change back into your clothes at our shop
After your enjoying your day's journey, you will come back to get changed.
7. Finish
We hope you will have enjoyed your trip to Otaru and we look forward to your future business!

Location photo bridal
200,000 yen per couple
*This plan is 200,000 yen per couple, but we offer this plan for 150,000 yen to commemorate our website opening (the first 5 arrivals only).
This plan includes:
a set of kimono, a set of small articles for a kimono, dressing and make-up fee, rickshaw fare, photo taking fee by a professional photographer and image data of 200 photos (We burn the image data to a DVD and mail it to your home address.)
*Time required is about 4 hours and a half (richshaw riding 70 min, strolling 80 min, dressing & changing 120 min ).
*This plan is available between April and October.(This plan is not available during the winter season.)(We are currently considering whether to offer this plan or not during the winter season.)
*Please make a reservation at least one month in advance. Otherwise, please contact us.
*Please pay into the following bank account within 10 days of your reservation.
*Cancellation received within 7 days prior to arrival will incur the cancellation charge.
*We would like you to arrive at my store least 150 min before reservation time.
*We need to be on time!
*Please note that if you don't come on time, we can't meet your request.
*The consumption tax is not included in the price.
Cancellation Fee
Upon cancellation because of the customers' personal preferences,the customer will be charged a certain percentage of the total price as listed below.
Cancellations made
-between 7 and 3 days from reserved photography date : 30%
-between 3 days and 5 p.m. on the previous date from reserved photography date :50%
-between 5 p.m. on the previous date and reserved photography time :100%

In the case of cancellation, please contact us by e-mail.
We'll e-mail you the bank account for cancellation fee transfer.
When photography in the outdoors becomes difficult due to poor weather, we might change the photographing location.
We kindly ask for your understanding.
If you wish to change your reservation, please contact us one week in advance for Rickshaw tour in kimono and two weeks in advance for Location photo bridal.
Cancellation after the above-mentioned period of time will incur cancellation fee.